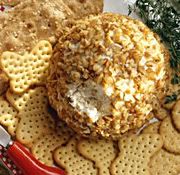 Ingredients

250 grams cream cheese (softened)
12 oz mild cheese
¼ teaspoon garlic
¼ teaspoon salt
2 tablespoon Worchestershire sauce
½ milk (just enough to mix)
chopped nuts (whatever suits your taste)

Grate cheese. Use fork and blend everything together. Shape into ball and chill for 30 mins. Roll in chopped nuts.