I found this recipe at a fall fair which called for chicken instead of beef. I didn't have chicken at the time so in the beef went instead. I have yet to try the chicken version of this.

Ingredients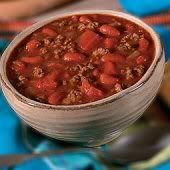 2 lbs (900g) ground beef or chicken
1 large cooking onion, chopped
1 large red pepper, chopped
1 stalk celery, chopped
3 cloves garlic, minced
2 cans (5 ½ oz) tomato paste
¼ cup non-fat beef or chicken broth
1 can (28oz) diced tomatoes with juice
1 can (19oz) red kidney beans
Frozen or can corn
Chili powder (to taste)
Fresh ground pepper (to taste)
Crushed Chilis (to taste)

Brown beef or chicken and drain. Mix all ingredients into crockpot and simmer for 3 hours minimum. (overnight leads to the best tasting chili ever).