I decided to try this recipe because I had the most intense experience with a Butternut Squash Soup served in the Denver Airport one year. This recipe doesn't do it justice but it comes close. Oh, peeling and cubing the squash isn't fun either. If anyone has any tips on that please forward them to me.
Ingredients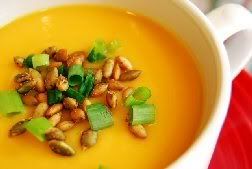 2 cups chopped onions
3 lbs butternut squash cubed and peeled
4 cups chicken broth
1 ½ cups applesauce
¼ tsp nutmeg
¼ tsp cloves
¼ curry
½ tsp salt
¼ tsp cinnamon
¼ ground pepper
Caramelize onions in a pan. Place all ingredients in a slow cooker and cook on low for 4 to 6 hours. You may want to use a food processor near the end of the cooking time to blend all the ingredients into a smooth consistancy.
Here is a YouTube version. Different recipe but well illustrated.