When I was younger I would look forward to go to "la cabane a sucre" for some outdoor fun but especially for the maple syrup. Visiting a cabane a sucre involved a tour of the site showing how maple syrup was collected from the sap to the finished product at the table. We would then drown everything we ate with Maple syrup that day and ate the snow-hardened syrup on sticks for dessert. For the love of Maple syrup. This is recipe is to die for.
Ingredients: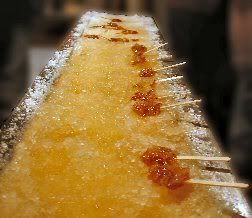 300g wheel Brie cheese
½ cup walnut crumbs
½ cup sultana raisins
¼ cup maple syrup
500g or 1 pkg of puff pastry, thawed.
Mix walnuts, sultanas and maple syrup. Set aside.
Roll out puff pastry to 12" diameter circle.
Cut Brie in half so you have 2 circles. Spoon walnut mixture onto one of the Brie circles and top with remaining circle.
Place the Brie and mixture in the middle of the pastry and fold the pastry over the top of the Brie.
Bake in oven 400F/200C for 30 minutes or until pastry is golden brown. Let cool before serving.