Ingredients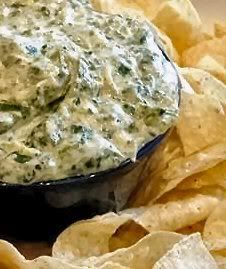 8 oz cream cheese
¾ teaspoon garlic powder.
I normally use 2-3 cloves finely chopped garlic
¼ cup parmesan cheese
1 tbs romano cheese
1 tbs very finely chopped sweet red pepper
1 green onion (scallion) white and green finely chopped
½ package frozen chopped spinach, thawed and squeezed dry
½ cup grated medium cheddar
cayenne pepper - to taste
Preheat oven to 400 degrees.
Mix cream cheese, garlic, parmesan and romano cheese until softened.
Add red pepper, green onion and spinach to the mix. Keep mixing and work those forearms people!
Transfer mixture to an ovenproof dish sprinkle with cayenne pepper. Top with cheddar. Bake for 15 - 18 minutes or until bubbling around the edges.
Remove from oven and allow to set for 5 mins before serving. Serve with fried or baked pita wedges, or tortilla chips.