I'm in love with the sweet potato AKA Yams. The taste is amazing with this salad and it can be an entire meal if you want it to. Quick and easy to make, its also good on the pocket book. I'm not sure where I found this recipe but its a keeper. Originally called for 4 Yams, the bean salad is good for 6.
Ingredients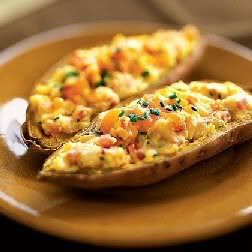 6 medium Yams
1 15oz can black beans, drained and rinsed
2 tomatoes, diced
1 tbsp olive oil
1 tsp cumin
you can use any spice you want. I was out of cumin so I threw in Italian spices instead.
¾ tsp salt
¼ cup light sour cream
optional
Grated cheese
optional
Poke Yams with a fork in several places. Microwave on high 12 to 15 minutes (or use the potato settings if you have one), Halfway through, turn Yam over once. You may also bake the Yam at 218 C (424 F) for one hour.
In a bowl, mix beans, tomatoes, oil, cumin or spices of your choice, salt and microwave on high for 2 minutes.
Cut each Yam lengthwise, make a bowl shape, sprinkle with cheese, bean salad and top with sour cream.
Heaven!