I've seen some really neat iPhone holders out there. From the expensive to the do-it-yourself ones. I rather like the ingenuity of the DIY ones. I have mine on a bean bag. It doesn't fall and it holds itself in the lanscape position well. All you need is to get a bean bag stress ball preferably made of vinyl-like material
got mine from a dollar store
. Now my iPhone has a rubber skin on it so it adheres to the bag quite nicely. I tried it without the skin and it slides a little.
So the ball serves as a de-stressor AND holds up your iPhone.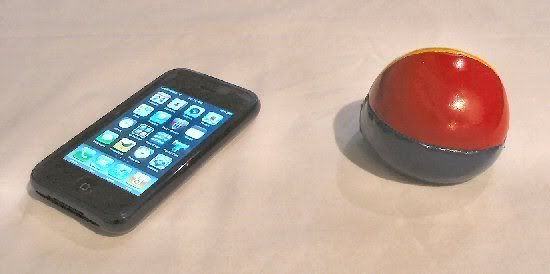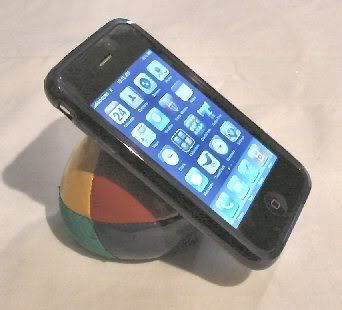 I also tried the business card holder and it does work but I find it flimsy, you can't touch the iPhone without it falling over. I much prefer my bean bag to this but hey it works if you're in a hotel somewhere and need a quick holder.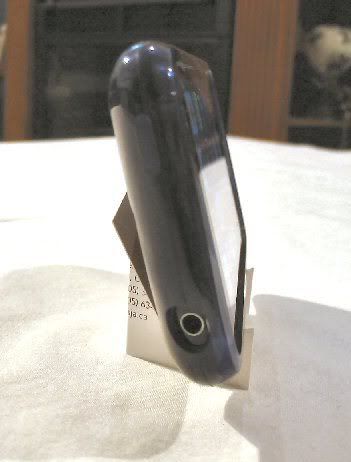 Here are more DIY holders if you are interested:
Instructables:
Simple business card iPhone/iPod stand.
iPhone Savior:
Cut out the packaging the iPhone came in and used it as a stand.
iPhone Binder Clips:
I would just be careful of the metal scratching your iPhone.
CD Stand:
They used a bunch of old CDs and glue. It is both a stand and charging station.
Pencil and rubber band stand:
yes people, pencils and rubber bands.
iPhone stand made of laser cut acrylic scarps:
at first I read scarf!
Paper Cip iStand:
use a plastic coated paperclip so you don't end up scratching your iPhone.
iphonehacks:
Wooden charging station and stand for the carpenter in you.
iphonehacks:
using a rotary phone as a holder...were getting more creative here.
Geeky Gadgets:
they created the carboard iPhone holder and they have a template for you to use.