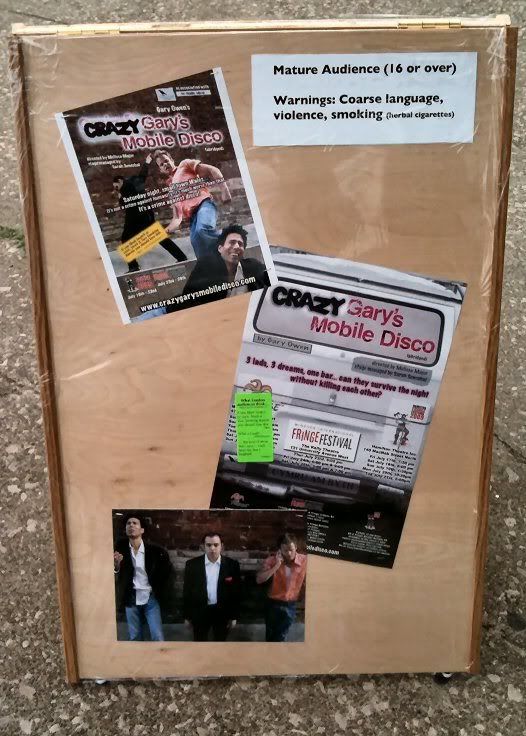 When my friend called to ask if I wanted to go to a fringe festival. I immediately thought
Fringe... as in hair bangs? Why would anyone go to a festival of bangs? *gasp* what if it were some kind of freakish mullet festival where people get to show off their do?
Needless to say I was excited and intrigued, I'd never been to a hair festival before. Definitely a camera-worthy event.
Turned out I couldn't have been more wrong. A
fringe
festival involves the performing arts. These festivals allow emerging artists to present their work to a wider audience at affordable prices.
The word fringe in this context really means outskirts. It originated in 1947 when theatre groups, who were not allowed to perform in the prestigious Edinburgh Theatre Festival, decided to set up their own festival of sorts. They held their performances on the outskirts of Edinburgh, hence the birth of the term
fringe festival.
Current fringe festivals operate on four principles:
No Artistic Direction. Artists are selected by 'first come, first served'.
No Censorship. Artists have complete freedom to present their work.
Accessibility to artists. Anyone can apply to the Fringe.
Accessibility to audience. Ticket prices are kept low and 100% of the ticket price is returned to the artists you see on stage.
The venue was located in downtown Hamilton at the
Hamilton Theatre
, a small building with an equally small stage, all very cozy. My friend and I, along with 6 other people were the audience that night. That meant we had the best seats in the house.
The play was Crazy Gary's Mobile Disco; set in Wales with 3 guys, 3 different stories, the subtle and not so subtle connections between them. One thinks he is the Karaoke King, the other a die hard Disco fan, while the third one is a wimp. Throw in the perfect girl, a dead cat, a pub and you have yourself an interesting mélange. The play comes with a rating of mature audience (14 or over) with a warning of coarse language, violence and
insert chuckle here
smoking. Yes they warn you that there is smoking as part of the play but they are only herbal cigarettes :-)
Check out the pic above if you don't believe me.
It took me about 15 minutes to really get into the story. What initially threw me off was the accent of one of the actors, he seemed to switch from Irish to Australian to Jamaican accents. Otherwise, I rather enjoyed it. It was certainly different from other plays I had attended, but that's the whole purpose of the festival isn't it? The play lasted around 1hr and the total cost was $11. Certainly worth it for the audience. I'm not so sure it was profitable for the actors that night with only 8 people in attendance. Hopefully it will pick up for them once the festival gets in full swing.
Soooo if you are interested in just doing something different one night, I recommend you check the dates for fringe festivals in your area. This particular play will be on until July 21 in Hamilton and continue until July 25 in Windsor. Go.see.it. Just pretend you don't hear the accents.
Piqued your curiosity? Then you may also want to check out:
Crazy Gary's Mobile Disco:
the play's official website.
Hamilton Fringe Festival:
Where the craziness begins.
International Windsor Fringe Festival:
find out more about fringe festivals.
CAFF:
Canadian Association of Fringe Festivals.