You have the K-9 police dogs, therapy dogs, guide dogs, service dogs, rescue dogs, now introducing the new Paramedic K-9 dogs. These dogs are trained in a variety of life-saving techniques such as rescue breathing (artificial respiration in some circles). These highly trained dogs accompany their handlers, other trained paramedics, who coincidently also drive the ambulances as none of the dogs have yet to pass their driver's exams.
This controversial program is in the beta testing in some areas. The chief medical officer, overseeing the program so far, has been impressed by the four-legged medics. "Our new recruits seem to instinctively know when someone is in distress, enjoy working with people, are eager to expand their skills set, and most importantly will work for well...table scraps."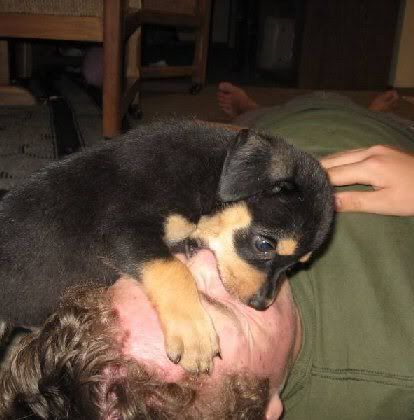 The CMO continued to explain how the areas testing the program have been successful in cutting costs, "especially in our troubling economy we all have to find more efficient ways of doing our jobs."
To the right is a picture of one of the new recuits in training. Paramedic Gage is seen here performing rescue breaths on his partner/handler.
You may be interested in seeing real working dogs listed below:
St. John Ambulance Saint-Jean Therapy Dog Program:
I'm a little biased as I volunteer for the organization.
Guide dogs for the blind:
in both the US and Canada.
Metropolitain Police Service - Dog Support Unit:
these dogs and their handlers make London safer.
Sparky:
Can't forget Sparky he'll be jealous.
NSARDA:
National Search and Rescue Dog Association located in the UK.