Ingonish
Finally arrived in Ingonish, my goals were to scout out a campsite and get some food. I was pretty sick of living off my loopy mix and hard boiled eggs.
The ladies at the park site were awesome, they answered all of my silly questions with a smile. Good job ladies, you made an inexperienced camper feel at home.
OK so what you do if you don't have a reservation is to go and grab a campsite then return to the park office place thingy to register your campsite and pay for your license. They do check your license BTW. I saw one lady come up to cars while I was camping to check its validity.
It took me a whole hour to put up the tent! Yes when I went to pick up the tent, the owners showed me how to do it but we were 4 of us :P Here I was holding on to one pole, trying to slip the other pole into the slot thingy at the end then run to do the same thing to the third pole but because it was windy the thing would flop over and I would have to start again. When I finally figured it out it was time to put on the fly. I thought myself brilliant when I tied the peg bag to one end of the fly to throw it over the tent. That doesn't work well when your end isn't anchored and the wind picks up the fly. So after a few tries and some newly invented swear words the fly was successfully anchored. Oh and I am quite certain that I provided some much needed entertainment to my neighbours who watched and didn't lift a bloody finger to help me. Anywho, here is what the looks like, so proud!
1 hour and several colourful metaphors later
Sweet, so now onto finding some food. At this point I went up the road a ways to a grocery store. What I haven't told you is that on my travels down the mountain to Ingonish my car was making this horrible noise. I just chalked it up to an old car that never went up and down hills the way I forced it. But, Ingonish is not that hilly., and my Honda was still making that terrible noise. So coming out of the grocery store I looked at my tail end and noticed that my muffler was holding on for dear life! Yep, here I was, in a strange land, with a loose muffler. The grocery store cashier told me I could find a mechanic down the street to take a look at it.
see anything missing?
Here I went down to
Caper Gas
where the Doucettes took awesome care of me. They took my muffler off and told me to come back the following morning when they would figure out what to do with it. They knew I was camping nearby and I'm sure they took pleasure in the fact that I had to be up early and wake the entire camp up at 7:30 with my rumbling Honda. Actually, I kinda liked waking the camp too :P It took less than two hours for them to fix my baby and I was so happy that I gave them a bottle of wine (it was the wife's anniversary). I hoped they had a good time that night. *cough* Maybe I will have indirectly increased the Doucette population *cough* BTW the Doucettes are everywhere in Ingonish. There are streets named after them, the convenience store and who knows what else.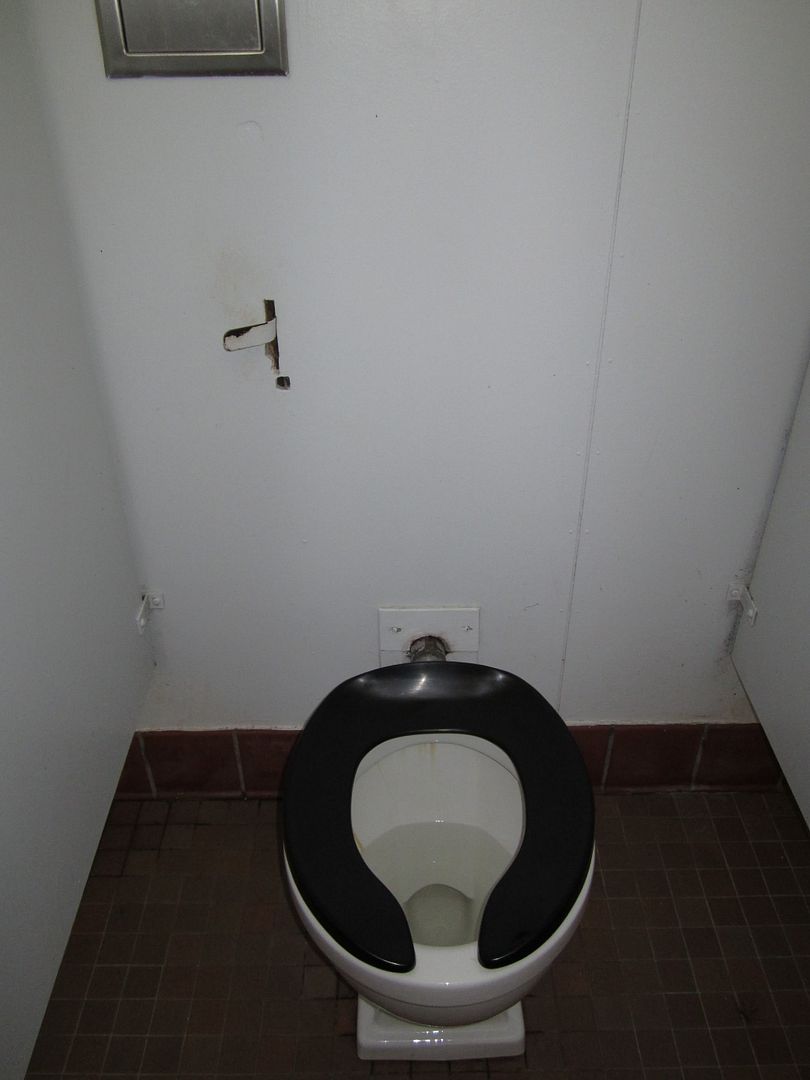 Clean :-)
The next few days were spent hiking, eating and sleeping. BTW Cape Breton Highlands National park is super-well maintained. There were clean toilets, showers, sinks, designated place to wash dishes and of course anti-bear garbage bins. I made certain to keep my food in the car and always clean up right away after eating (that is better than what I do at home LOL). I didn't have any problems with the camp stove and fortunately I didn't set the island on fire for which I'm sure the Doucette clan is grateful.
My first venture was going down to Ingonish beach and checking out both beach and Freshwater Lake. OK so when someone says beach you automatically think of sand right? Well me too. Apparently we are wrong. There is little sand on this beach. There are stones. Gizillions.of.them. Enlightened beach people brought chairs to that beach not beach towels to lie on.
Of course being the curious monkey that I am, I had to find and read those informative boards about those beach stones. Here is what it says.
oh alright I put my stone back
For thousands of years, the Atlantic Ocean has shaped this coastline and its people. The cobblestone barrier anchors the beach blow. Each year, sand is added by summer swells and removed by crashing winter waves. But only the most powerful storms can shift the cobbles. Ingonish residents, past and present, rely on the ocean for their livelihood. What the sea offers, it can reclaim. In 1895, par of the fishing settlement on the cobblestone barrachois was swept away by a winter storm. Removing even one cobble from the beach weakens the anchor. Please leave cobbles in their place and let the ocean shape the barrier, as it always has. We are all responsible for the future of our wild places, including Cape Breton Highlands National Park of Canada and every other national park.


Middle Head
(or as I like to call it, Middle earth)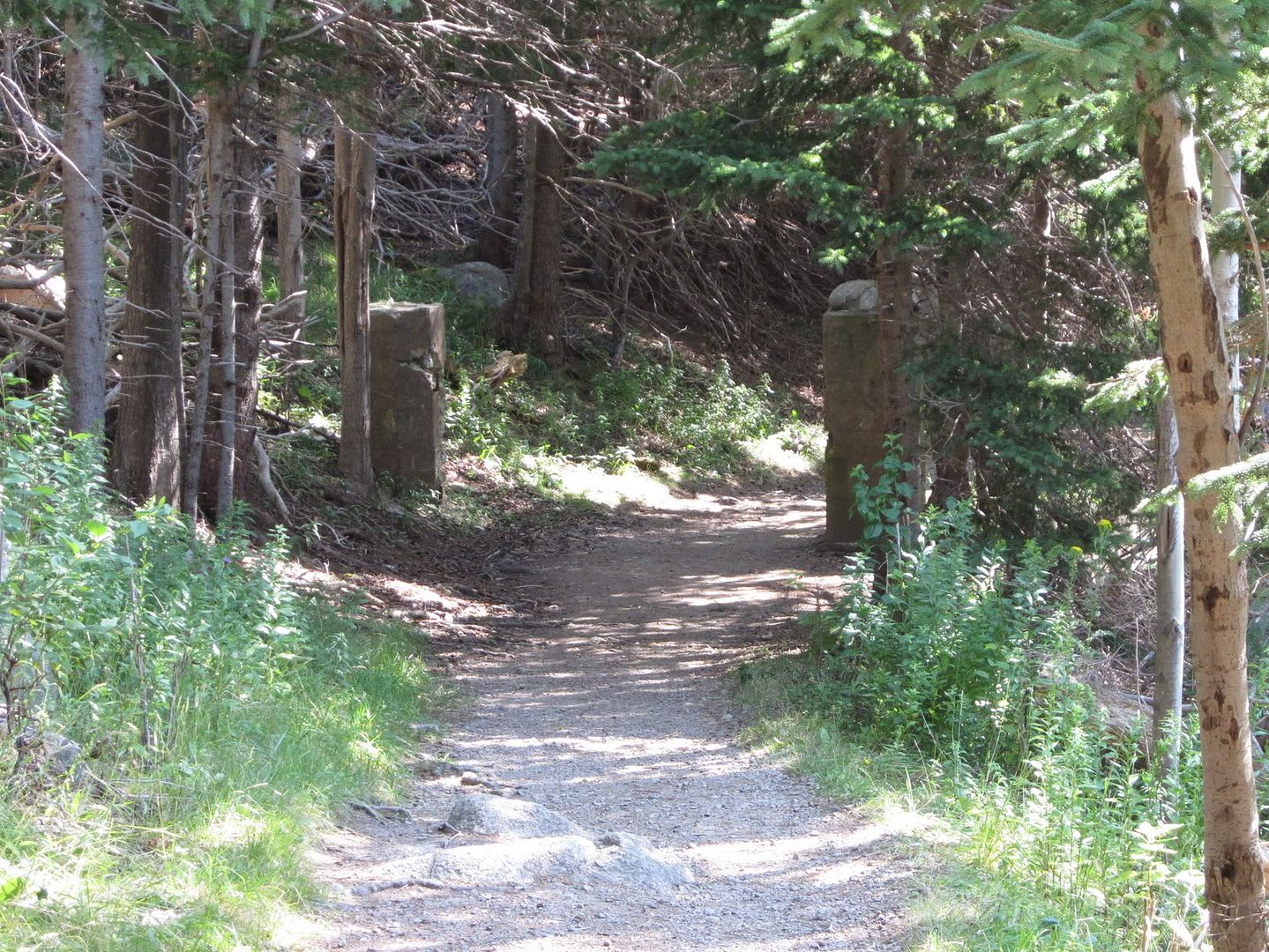 The Road goes ever on and on
Down from the door where it began.
Now far ahead the Road has gone,
And I must follow, if I can,
Pursuing it with eager feet,
Until it joins some larger way
Where many paths and errands meet.
And whither then? I cannot say ― J.R.R Tolkien
By far my most favorite hike of all. I'm not sure if it was the perfect weather, the fresh air or the view but I enjoyed this one trail the most.
The start of the trail is located beyond the
Keltic Lodge
and took a few hours to complete it. It has some steep hills but nothing too serious. The picture to the right is the start. I would assume the two columns on either side to have anchored a gate of some sort. I had a Tolkien flashback. I won't put all of Middle Earth's picture on here, you can always see the complete set at the end of the post.
If you plan on doing this trail, be careful of the wind on top of the rocks. It can pick you up and throw you down quite easily. Apparently this is also coyote territory but to my chagrin I did not see any.
I found another information board about Middle Head. You are getting quite the education aren't you?
In 1890 while touring Cape Breton with his good friend Alexander Graham Bell, Mr. Henry Corson, of Ohio, spotted this peninsula from Cape Smokey. He decided to build his summer home here. In 1938, Middle Head became part of Cape Breton Highlands National Park. In 1951, the Corson home was replaced by the Keltic Lodge, now owned and operated by the Government of Nova Scotia. Mr. Corson's cattle once rambled down this trail parusing at the dringing trough just ahead beyond the gate.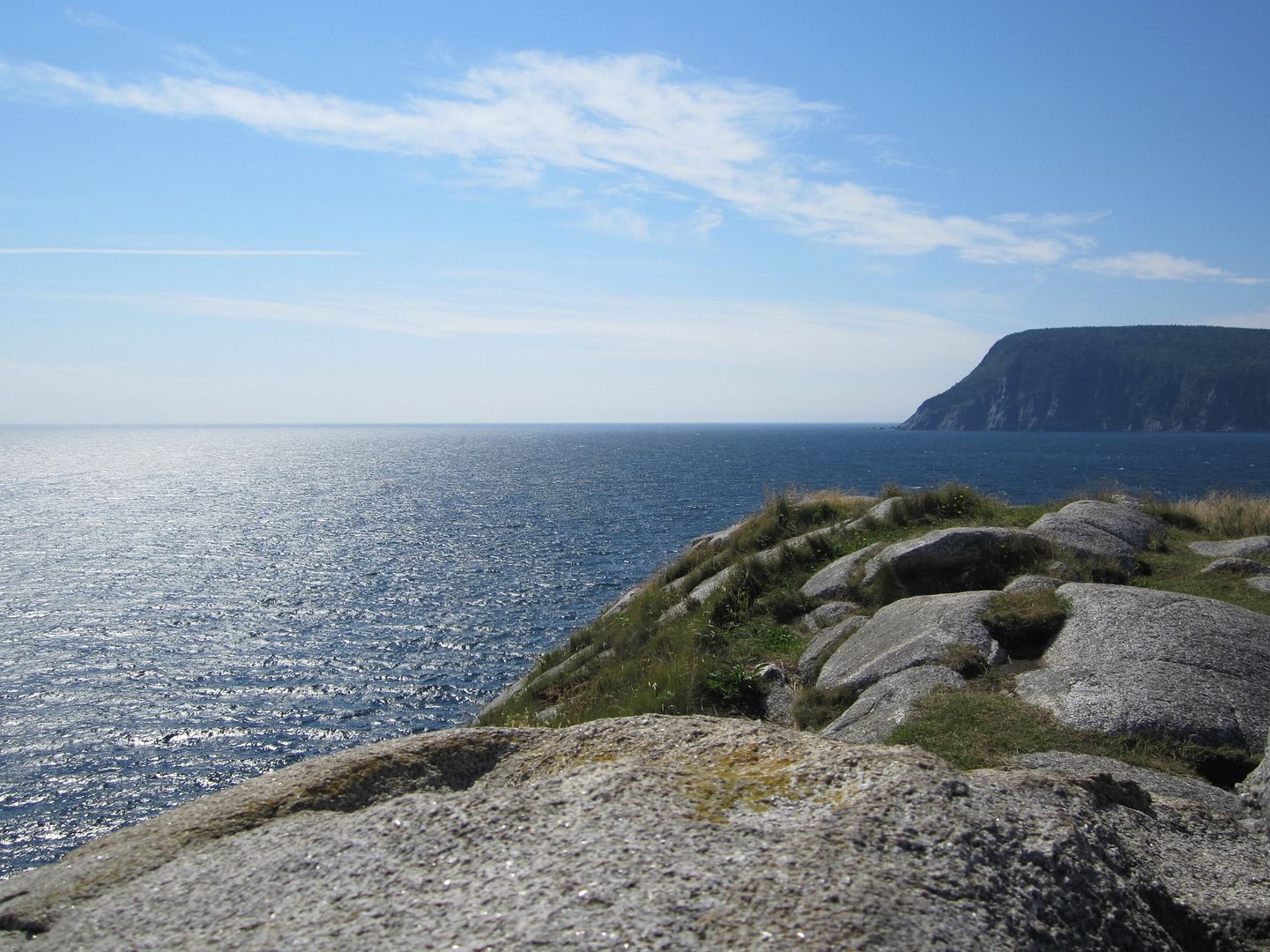 Cape Smokey in the background
Met a few people on the hike. There was a Park-organized hike before me so I let them go a ways before I continued. Like I said it was a beautiful day, perfect temperature but windy up on the rocks. I loved all the look offs and the trails that led to them. Oh and the area was full of thistles, you know, those prickly things. I got pricked by them whenever I went off the trail.
The entire time I was on this trail my brain kept repeating Tolkien quotes. I think I may have even heard the scurrying of furry hobbit feet in the forest. Wait a minute, I think I hear Gandalf speaking...
Middle Head and a gnarly tree
"It's a dangerous business, Frodo, going out your door. You step onto the road, and if you don't keep your feet, there's no knowing where you might be swept off to."
― J.R.R. Tolkien
Of course I had to take a nap when I came back from the hike :P I was on vacation after all, ya think I needed it?
Mary Ann Falls
and
Warren Lake
I wanted to do the Warren Lake drive but I turned right instead of left, ended up driving for ever on a gravel road which let to Mary Ann Falls. There wasn't many tourists up there pretty much local folk who looked at me funny. Most of them ended up frolicking at the bottom of the falls.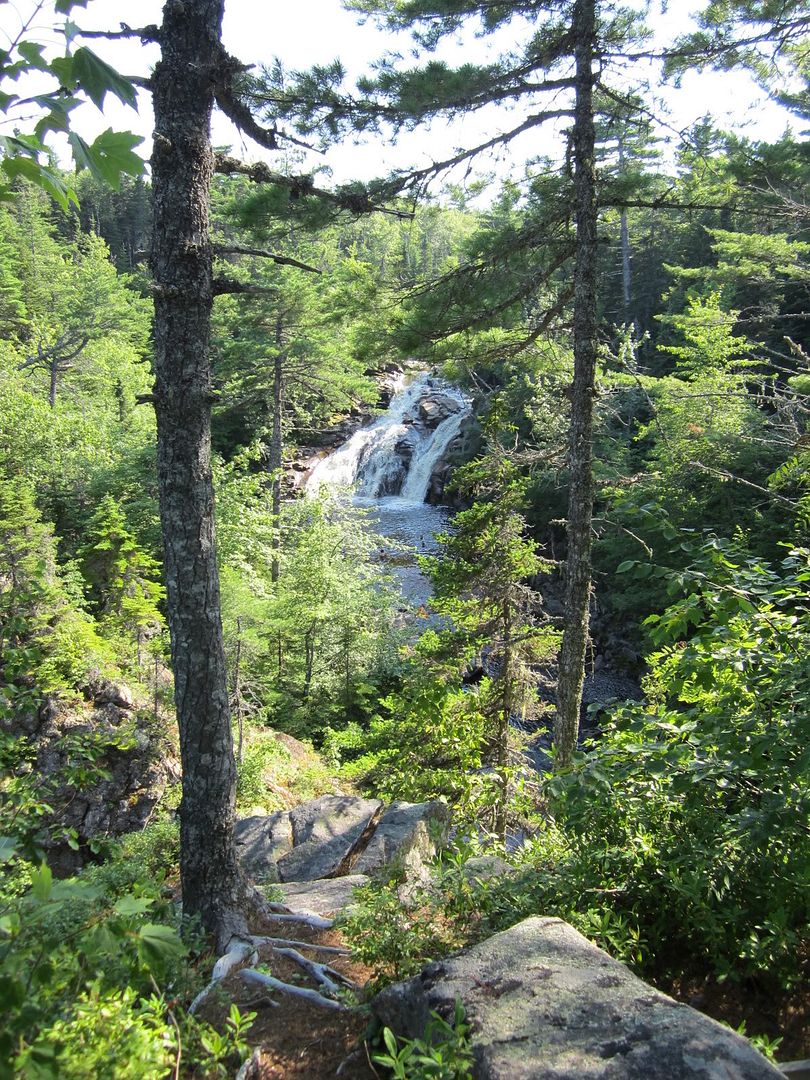 Mary Ann Falls
I retraced my steps down the gravel road, all the while praying for my muffler to stay attached, finally turned onto the correct gravel road to
Warren Lake
LOL. It was quiet around the lake, not too many people out on it. No one out on the trails. It was an interesting hike. It was also getting humid at times so that you would walk into a wall of humidity and of course mosquitoes. This was the only time where I was actively pursued by the little buggers.
The trail follows the perimeter of the lake so for the most part you were in eye shot of it. I was doing this hike in the late after noon so the sun was going down, throwing shadows on the trail. At one point the side of the trail was covered by a wall of moss. I crossed over part of the lake over a boardwalk that wobbled (oooh I love to live on the edge!) and met the only wildlife I was to encounter on my trip. A frog or toad, whatever. He was nice enough to pose for me while I was playing with the macro setting on my camera.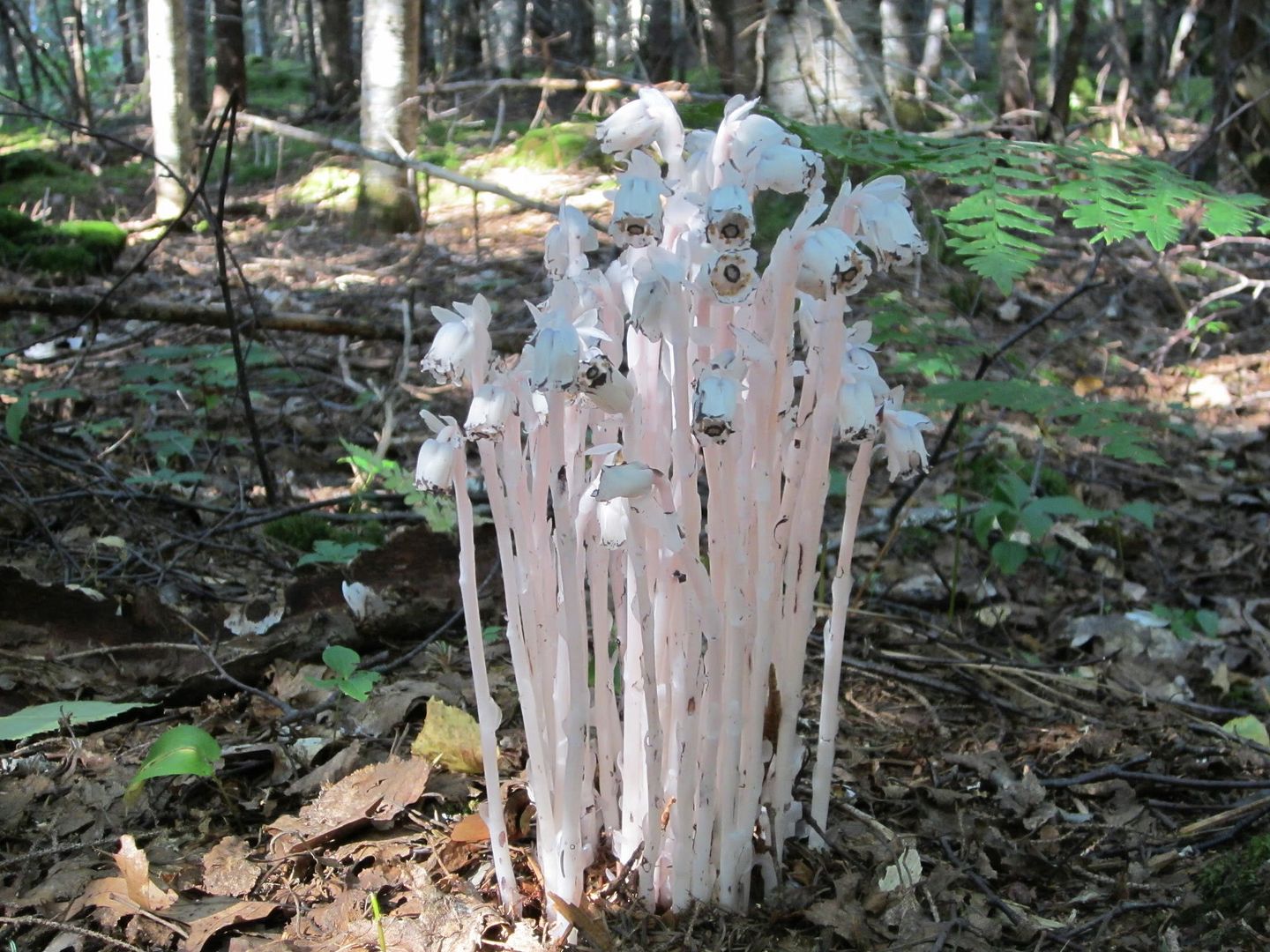 maybe these glow at night, maybe they are carnivorous
I came across these white flowery stalk thingies in the forest. They stood about 5 inches from the ground and looked translucent. Like things that glow at night. If anyone knows anything about these please share. I thought they were pretty so I took a picture.
Baddeck and the Bell Museum
On check out day, it had rained a little. Of course. Why would it be sunny on the day I had to pack up the tent? I left and made my way to Baddeck to check out the
Bell Museum.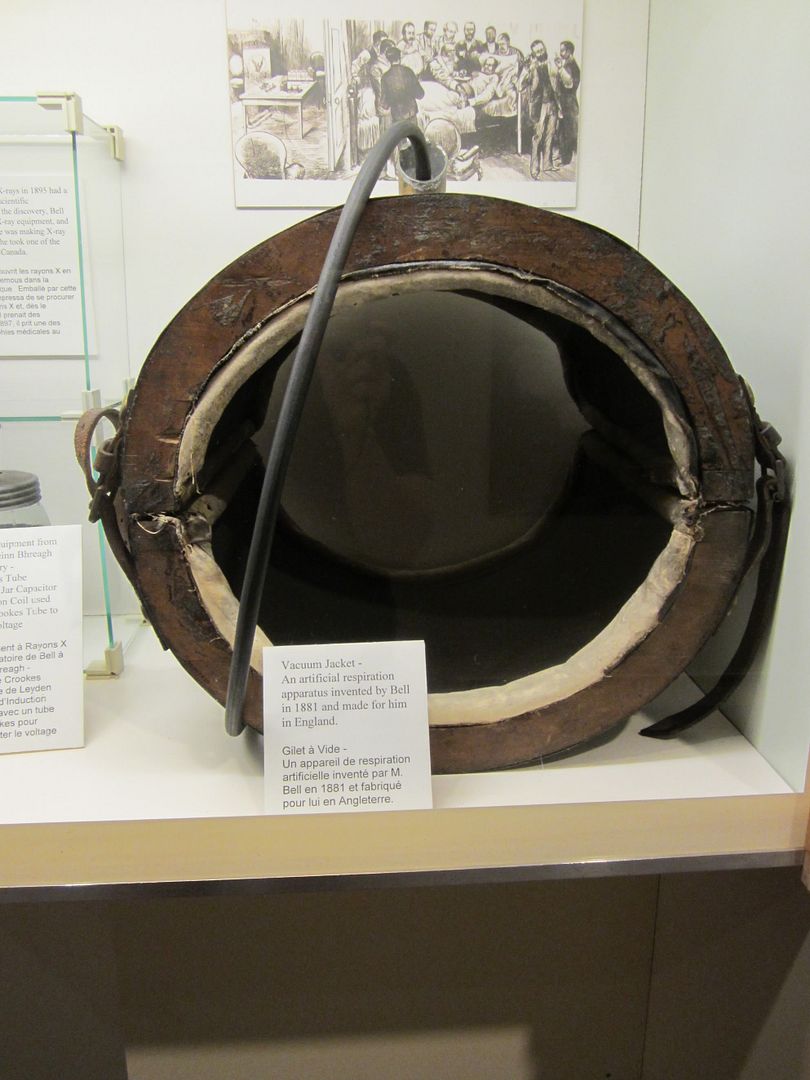 Vacuum Jacket circa 1881
Did you know that Alexander Graham Bell didn't JUST invent the telephone? Neither did I. He did a whack of things, like working of a visual language for the deaf, hydrofoils, kite flying, aeronautics and was generally curious about everything. You will have to go to the museum to know everything because the internet really does not do him justice.
This site
was the best site that also mentioned his other interests other than the phone. I was especially intrigued by the vacuum jacket he created for providing artificial respiration. Oh and he also married one of his students which would be a big no-no these days :P
I left Baddeck happy but hungry. I stopped at the
Red Barn
on the way off the island and stuffed myself with mussels. Then began my long journey home where my glutes often became numb oh was that too much information?
Dear Cape Breton, I will return. This time I will have an easier tent to put up, a freshly tune-up car and more bottles of wine to assist in the propagation of the Doucette clan. I hear there are caves that scream out to be explored in Glace bay somewhere and who knows what else. Can't wait to see you again.
"Not all those who wander are lost." ― J.R.R. Tolkien

All Cape Breton Photos

Interactive Map of my travels

View Cape Breton Trip in a larger map